| | | | |
| --- | --- | --- | --- |
| LFS Newsletter - New Version : 0.6R | | | |
Hi Members
We are pleased to announce a much improved version of the Blackwood racing environment. Textures and detail have been updated all around and a new Historic course is included in addition to the original GP and Rallycross tracks. For licensed racers, a new industrial estate area is accessible through the open configuration.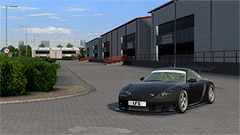 Various other improvements have been made, including an update to the car shadows. Skid marks are now left on the concrete layout objects used for bridges and other construction projects. The open configuration maps are now much more informative and the same textures have been used to improve the track selection screen.
Read all about the update and how to install it on the 0.6R information page.
- LFS Developers
Hi racers,
We have some time off as the number of race participants were lower by the month.
Seems the developers still believe in the game and keep making those updates as they did again this week with 0.6Q
I wonder when the Sirocco will come :)
Read more...
Hello Racers!
Today we are pleased to announce a new update with graphical improvements, better controller support and more.
The main graphical update is a new system to simulate the mirrors realistically. Each mirror's image is drawn from a separate reflected location, so the interior mirror looks out through the rear window and you can see the sides of your car in the side mirrors. In VR and other 3D modes, a full stereoscopic image is generated for each mirror.
Read more...
Hello all,
We are pleased to announce a new update with many improvements for VR, multiplayer, audio and more.
Live for Speed has some of the best VR support. It's a big month for Virtual Reality, so we thought it was a good time to make it even better. Now, a "look and click" system removes the need for a mouse. A virtual keyboard means you don't need to use the real keyboard, which was always hard with a headset on.
A new Demo filter helps you find the online races you are looking for. Other multiplayer improvements include a better steering input for remote cars and quicker horn and flash transmission. The new siren sound system was a popular update and it inspired some audio improvements. Now the doppler effect is enabled on all car sounds.
We hope you enjoy the update. Read the list of changes and how to get the update on the 0.6N information page.
Finally you may want to check out the new Files section we have added to the website. The first available file category there is car setups, making it the best place for finding your new car setups and share the ones you already have.
For more information, please visit this forum post with more details on the car setup section.
- LFS Developers
Dear LFS Racers,
We are pleased to announce a new version of Live for Speed, 0.6K, which contains the Rockingham race track. Located in Corby, England, Rockingham is an oval track with many infield configurations. Thanks to the owners, we were allowed to hire APR Services to laser scan the real track area in 2008. It has been a long time coming but we are sure you will like the result!
Version 0.6K also has graphical improvements including new reflections and dynamic environment maps, AI improvements, support for the HTC Vive VR headset (in addition to the Oculus Rift) and fixes.
Read more...
<<

Start

<

Prev

1

2 3 4 5 6 7 8 9 10 Next > End >>


Page 1 of 49